Reef Builder helps coastal communities recover
Boosting marine conservation to aid in bushfire and COVID-19 economic recovery
Reef Builder is an exciting partnership between the Australian Government and The Nature Conservancy to bring shellfish reefs back from the brink of extinction. 
The initiative is set to create up to 170 jobs and engage up to 120 subcontractors, many in regional areas, and support the economic recovery of communities impacted by bushfires and COVID-19 restrictions.
Shellfish reefs once thrived in Australia's bays and estuaries. They stretched from Noosa all the way to Perth. From the 1850s to the 1960s they were destroyed by overharvesting, dredging and water pollution. 
Now less than 10 per cent of them remain, making them a critically endangered marine ecosystem.
An economic boost
The economic shocks of COVID-19 and bushfires have been felt by many communities. The Government's $20 million investment will expand our successful program to rebuild shellfish reefs around the Australian coastline. It will support coastal towns and urban areas in need of recovery from COVID-19 and devastating bushfires.
Rebuilding shellfish reefs can create more jobs than traditional infrastructure investments across a diverse group of industries including maritime construction, aquaculture and natural resource management. 
Jobs range from barge operators, to truck drivers, to shellfish growers and divers. After construction, the reefs will provide public benefits such as more marine life, cleaner waters, more fish and protection from erosion. These environmental benefits help to draw in more visitors supporting eco-tourism, hospitality and fishing sectors in particular.
Minister for the Environment Sussan Ley said the new shellfish reefs will have a positive impact on local communities and the economy, while also protecting biodiversity.
Why do we need shellfish reefs?
Shellfish reefs are made up of oysters and mussels and work just like a coral reef. They become rich ecosystems that support fish and other marine species. They provide cleaner oceans, more fish and safer coastlines.
Shellfish such as oysters are excellent natural water filters. One adult oyster can filter up to a bathtub of water a day. Click here to read more about shellfish reefs.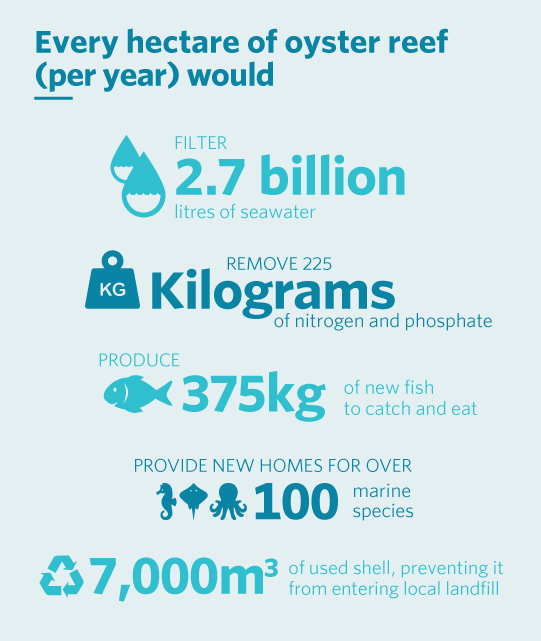 Where will they be built?
Reef Builder will restore reefs in at least 11 sites chosen from the following locations:
Port Stephens, NSW
Botany Bay, NSW
Sapphire Coast, NSW
Gippsland Lakes, VIC
Derwent Estuary, TAS
Kangaroo Island, SA
Onkaparinga, SA

Reef Builder is part of a bigger project to restore shellfish reefs around Australia's southern coastal areas. We aim to rebuild a total of 60 reefs across southern Australia. It's Australia's largest marine restoration initiative. If achieved, it will make Australia the first nation in the world to recover a critically endangered marine ecosystem.
60 new reefs will create up to 850 jobs in maritime construction, science, fisheries and service sectors with half of them in regional areas. For the same level of spending, this is more jobs than road developments (590 jobs), mining (250 jobs) and regional airport upgrades (1.4 jobs).
We've successfully built shellfish reefs all over the world, with many projects already well underway in Australia in:
References
Publications on shellfish reefs and linking reef restoration with economic improvement.
You can help us bring back shellfish reefs across southern Australia.
Just $35 per month for a year, can buy enough oysters, mussels and limestone to build 8m² of reef.