15 minutes by boat from inner Melbourne's Docklands pier lies Margaret's Reef under 10 metres of Port Phillip Bay seawater. While this might not seem unusual, it is a very positive sign of the resurrection of one of the Bay's former marine habitats that, until recently, had been completely removed from the local seascape.
 
Lost reefs

Port Phillip Bay contains a wide range of marine habitats like leafy seagrass meadows, hard temperate coral outcrops, colourful sponge gardens and vast underwater sandy plains. A hundred years ago it was also home to extensive oyster and mussel reefs that supported a huge range of other sea life including fish, crabs, sea squirts, snails and sponges. Sadly, after many years of over exploitation, pollution, introduced species and disease, these shellfish reefs disappeared.

Rectifying the past
In 2015, in our first Australian shellfish reef restoration project, we joined forces with the Victorian Government, The Thomas Foundation and the Albert Park Yachting and Angling Club to rebuild Port Phillip Bay's shellfish reefs.
Now, with Reef Builder funding from the Australian Government and the continued support of the local community, including recreational fishers and commercial shellfish growers, and many different corporate partners* we're continuing to rebuild the Bay's shellfish reefs.
What we've achieved so far
49

Shellfish reefs built

4

Locations

12

Hectare area covered by new reefs

510

Tonnes of recycled shells used
Where you'll find the reefs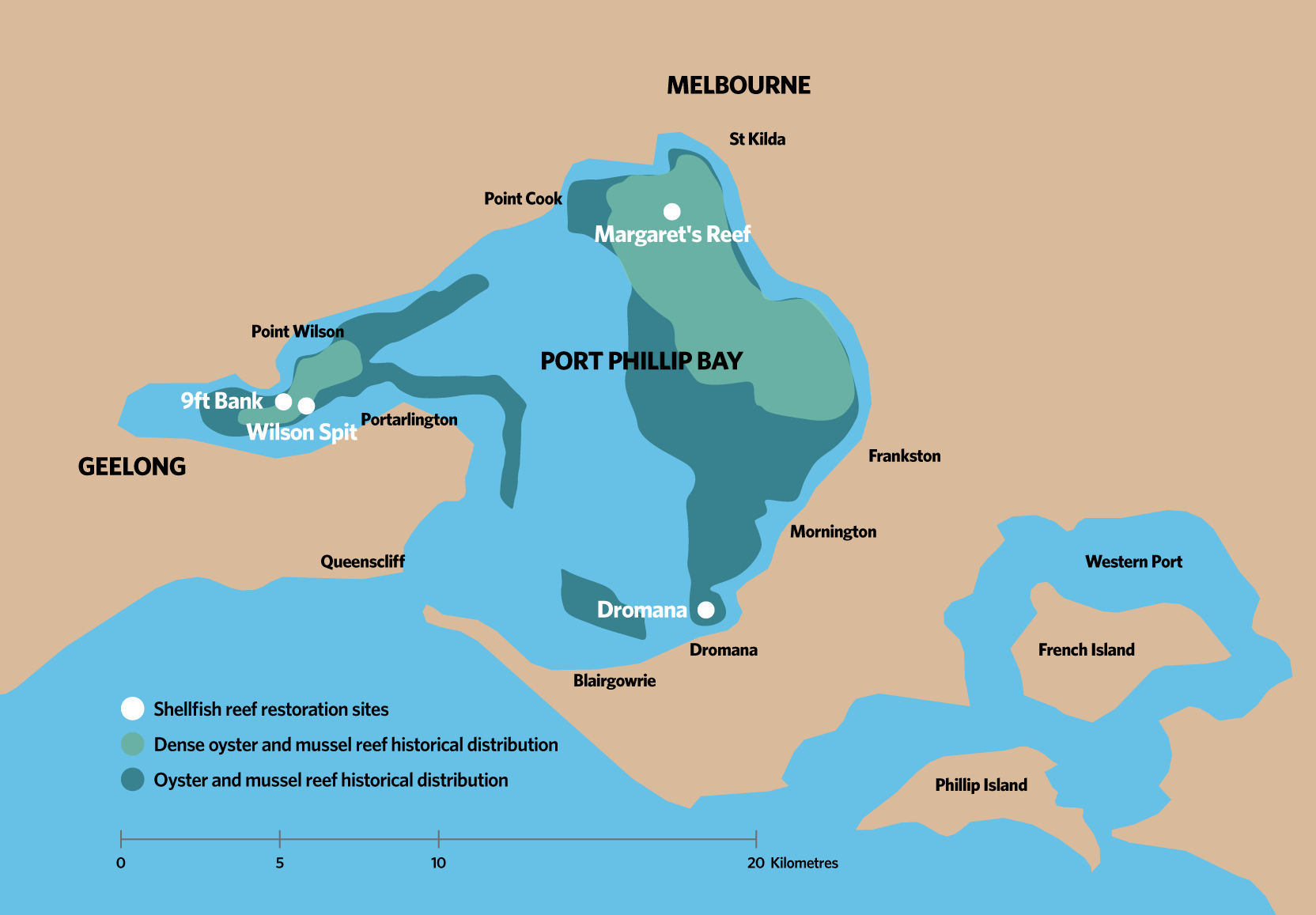 How shellfish reefs are built
The reefs are constructed starting with a base of hundreds of tonnes of limestone rocks and/or recycled seafood shells acquired as part of our Shuck Don't Chuck project. On top of this we scatter hundreds of thousands of hatchery-reared Australian Flat Oysters grown at the Victorian Shellfish Hatchery in Queenscliff and blue mussels grown by a Port Phillip Bay Aquaculture Farmer.
The young shellfish will settle and continue to grow. They'll eventually establish themselves in their new homes and attract all the other species that join them in creating a fully functioning shellfish reef. It will take about seven years for the reef to become self-sustaining.
If diving or fishing on the reefs, please do not anchor on top of the reef as this will destroy the growing reef structure. 
* Our partners in the project are the Australian Government, Victorian Government, Lord Mayor's Charitable Foundation, Ross Trust The Thomas Foundation, the Albert Park Yachting and Angling Club,  along with: Brambles, CHEP Australia, HSBC Australia, SUEZ Australia & New Zealand, Victorian Ports Corporation, the J & M Wright Foundation, Dow Chemical Australia, Victorian Shellfish Hatchery and commercial shellfish growers, City of Greater Geelong, University of Melbourne, Deakin University, Australian Shellfish Reef Restoration Network, VRFish, Seafood Industry Victoria, Victorian National Parks Association, OzFish Unlimited, Geelong Disabled Peoples Industries, South Melbourne Markets, Little Creatures Geelong, Mantzaris Seafoods, Portarlington Mussel Festival, Barking Spider Visual Theatre, Telegraph Hotel, Vue Group,  Collins Quarter, Il Nostro Posto and many local dive and fishing clubs and marine care groups. We'd also like to thank Streamline Media, Kina Diving, Polaris Marine, Reel Easy Charters, MACS Diving Services, Creative Stainless, P J & T McMahon's Excavation and Menheere Brothers for their support.
You can help us restore shellfish reefs across southern Australia
Just $35 per month for a year, can buy enough oysters, mussels and limestone to build 8m² of reef