The Gippsland Lakes are one of Australia's largest and most beautiful series of coastal lagoons and wetlands. Their waterways cover about 350 square kilometres and boast stunning lakes, vast sand dunes and pristine beaches.
The area is so unique that it's listed as a wetland of international importance under the Ramsar Convention in recognition of the outstanding coastal wetland values and features. A playground for outdoor enthusiasts, its seascape is the perfect place to enjoy swimming, fishing, boating and bird watching.
Not only the ultimate recreational destination, Gippsland Lakes is also the home of a thriving underwater ecosystem.
A brief history of reefs in Victoria
Across Victoria, Blue Mussel and Australian Flat Oyster reefs were once abundant, but sadly are now scarcely found. The Gippsland Lakes region is unique in that there are still some existing Blue Mussel reefs. For years, these reefs have helped clean water, support fish populations and contributed to maintaining overall aquatic biodiversity.
While the Gippsland Lakes maintain lively shellfish ecosystems, the same cannot be said for many other parts of Victoria.
A haven for wildlife
The Gippsland Lakes also have significant conservation value, due to the habitat they provide for wildlife - including expansive seagrass meadows.
A population of Critically Endangered Burrunan Dolphins call the area home. Local citizen scientists have identified over 130 fish species and an additional 250 invertebrates that reside in the area, including the Black Bream, King George Whiting and the Bigbelly Seahorse.
View the gallery:
The future of reefs in the lakes
With support from the East Gippsland Catchment Management Authority, and the Australian Government, we're building reefs at two sites in Gippsland Lakes. The proposed sites are currently being assessed by the Department of Environment, Land, Water and Planning under the Marine and Coastal Act permitting process. One reef site will be in Metung and the other at Nyerimilang. This reef project is working with the broader 'Love our Lakes' initiative which fosters a shared responsibility in caring for the Lakes and catchment.

Building more reefs in the area will support the incredible biodiversity already within the lakes. It will also extend the habitat for existing fish populations, boost important fish stocks, and improve water quality. Overall reef expansion will also help create local jobs and establish new fishing and dive tourism hotspots.

In early 2022, we will kick-start the new reefs by placing local rock material on the bed of the Gippsland Lakes, to provide a foundation. The reef patches will be about half a metre in height. They will be placed at a depth of 7 metres at the Nyerimilang site, and a depth of 4 to 6 metres at the Metung site. The planned shellfish reef restoration works will be about a quarter of a hectare in size.

Further reef construction will occur late 2022/early 2023 to bring the total restored reef size in Gippsland Lakes to 5 hectares.
Shellfish ecosystem restoration across Australia
With successful reef builds already in places like Victoria's Port Phillip Bay, we're excited to begin reef builds in Gippsland Lakes.
This project is one of thirteen sites being built under Reef Builder , an initiative supported by the Australian Government. It aims to bring shellfish reefs back from the brink of extinction. It's also designed to support the economic recovery of communities affected by bushfires and COVID-19.
If achieved, Australia will be the first nation in the world to have recovered a critically endangered marine ecosystem.
Benefits for people and nature
The return of the shellfish reefs to Gippsland Lakes has many benefits for the local community and nature. This includes:
improve marine biodiversity, fish production and water quality

provide further opportunities for people to enjoy recreational fishing, snorkelling and diving
boost to sustainable tourism
community engagement opportunities including volunteering and citizen science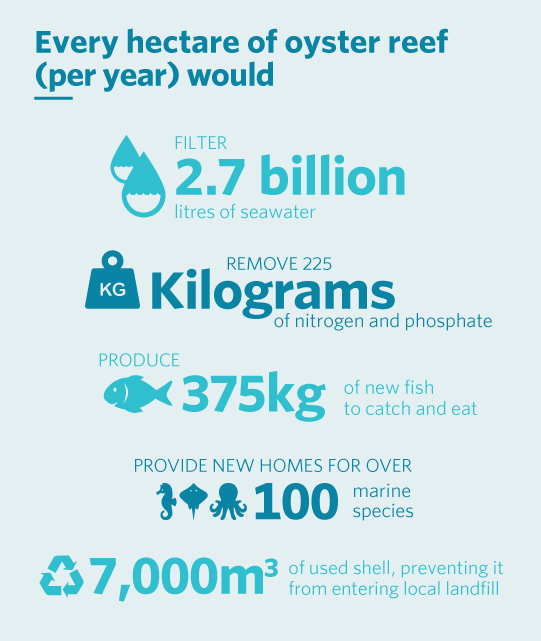 You can help us restore shellfish reefs across Australia.
Just $35 per month for a year, can buy enough oysters, mussels and limestone to build 8m2 of reef.