Become an Oyster Hunter today!
With just a few quick details, you can be on your way to becoming an Oyster Hunter!
BECOME AN OYSTER HUNTER
We need your help.
We are calling on water lovers to help us locate and map reef-forming shellfish (oysters and mussels) in your local area.

Our focus is Greater Moreton Bay, which extends from the Gold Coast Seaway to Caloundra on the Sunshine Coast.

Helping gather this critical baseline information helps marine restoration experts make important decisions about the most suitable places to restore shellfish reef ecosystems.
More detail about Oyster Hunter
Oyster Hunter is an exciting marine citizen science project in which local volunteer Oyster Hunters, armed only with a mobile phone and camera, comb waterways seeking out and recording populations of reef-forming shellfish species – oysters and mussels.
Shellfish reef ecosystems could once cover tens of hectares and were a feature of most estuaries around Australia.
Intense modern human use and modification of our coastal catchments, bays and estuaries has led to their almost complete loss in many places.
Their loss means the loss of ecological diversity, estuarine health, and resilience.
Shellfish reef ecosystems today are facing extinction. We can restore them, but they need our help.
The vital role of reef-forming shellfish
Shellfish are excellent at filtering water and removing pollutants. An adult oyster, for example, can filter a bathtub of water a day.
Shellfish reefs are homes, nursery areas and feeding grounds for many estuarine fish and invertebrate species.
Shellfish reefs support the return of other ecosystems like seagrass meadow and protect mangrove forests and saltmarshes.
Shellfish reefs can be used to hold back storm surge and erosion. They are an effective nature-based solution for protecting people and assets.
How do I become an Oyster Hunter?
To become a local Oyster Hunter, just fill in a few details and you will be ready to go!
Anybody can be an Oyster Hunter – individuals, community and school groups, businesses, students. All you need is a mobile phone, curiosity, and the enjoyment of being outdoors.
Oyster Hunters want to give something back to their local waterways.
Your personal data will always remain confidential with us and will not be shared. You will not be subscribed to any other project or program.
What reef-forming species are we hunting in Greater Moreton Bay?
Rock oysters
Pearl oysters
Leaf oysters
Hairy mussels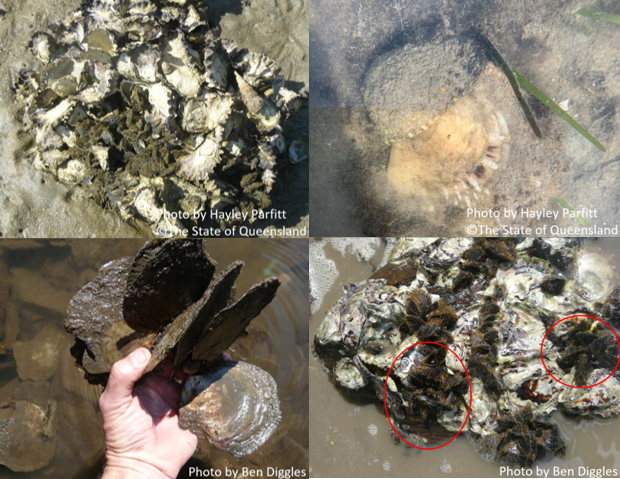 Where to find these species?

They may be found alone or in clumps or clusters:
On exposed rocks or in rock crevices
Amongst mangroves
On tidal banks or mud flats
On and around wharves, jetties, and seawalls
On aquaculture leases (active and derelict) but please stay out of active ones
Where do my records go?
Oyster Hunter records are collected and stored in a database managed by The Nature Conservancy. Your personal details always remain confidential.
The information is used by restoration teams to build shellfish reef restoration suitability models. These models point to the most suitable places to restore shellfish reef ecosystems.
From time to time, we will update you about this important work, if you elect for us to do so.
Oyster Hunter is an initiative of The Nature Conservancy (TNC). TNC is a global environmental non-profit, non-government organisation working to create a world where people and nature can thrive.
TNC has been leading marine restoration projects for over 30 years in partnership with local groups and individuals. TNC local restoration teams often include government departments, Traditional Owners, community and industry groups, tourism, specialist consultants and technical experts.