An ecosystem in decline
The hypnotic sway of kelp fronds as they dance with the surge of the ocean was once a common site along the Great Southern Reef. 
In recent times, these important ecosystems have been under threat.  They support a high diversity of marine life, abalone and crayfish fisheries, coastal tourism and recreational industries. These ecosystems also help to remove excess nutrients in the water and sequester carbon from the atmosphere.
Sadly, kelp forests and macroalgae habitat in Port Phillip Bay have undergone significant decline in the last two decades, mostly because of the increase in the numbers of Purple Urchins (Heliocidaris erythrogramma) and changes in water quality. 
This has led to these important habitats being replaced by '"urchin barrens'", which appear as areas of bare reef devoid of much marine life and up to 60 urchins per m2.
Urchin barrens have replaced important reef habitat across an estimated ~13 km2 of reef within Port Phillip Bay, with approximately 60% of all rocky reefs (by area) in Port Phillip Bay impacted by overgrazing of urchins[1] .
[1]Johnson, C. R et al. 2015. The reef ecosystem evaluation framework: managing for resilience in temperate environments. Seagrass and reefs. Final report for Department of Environment, Land, Water and Planning, Victoria, Australia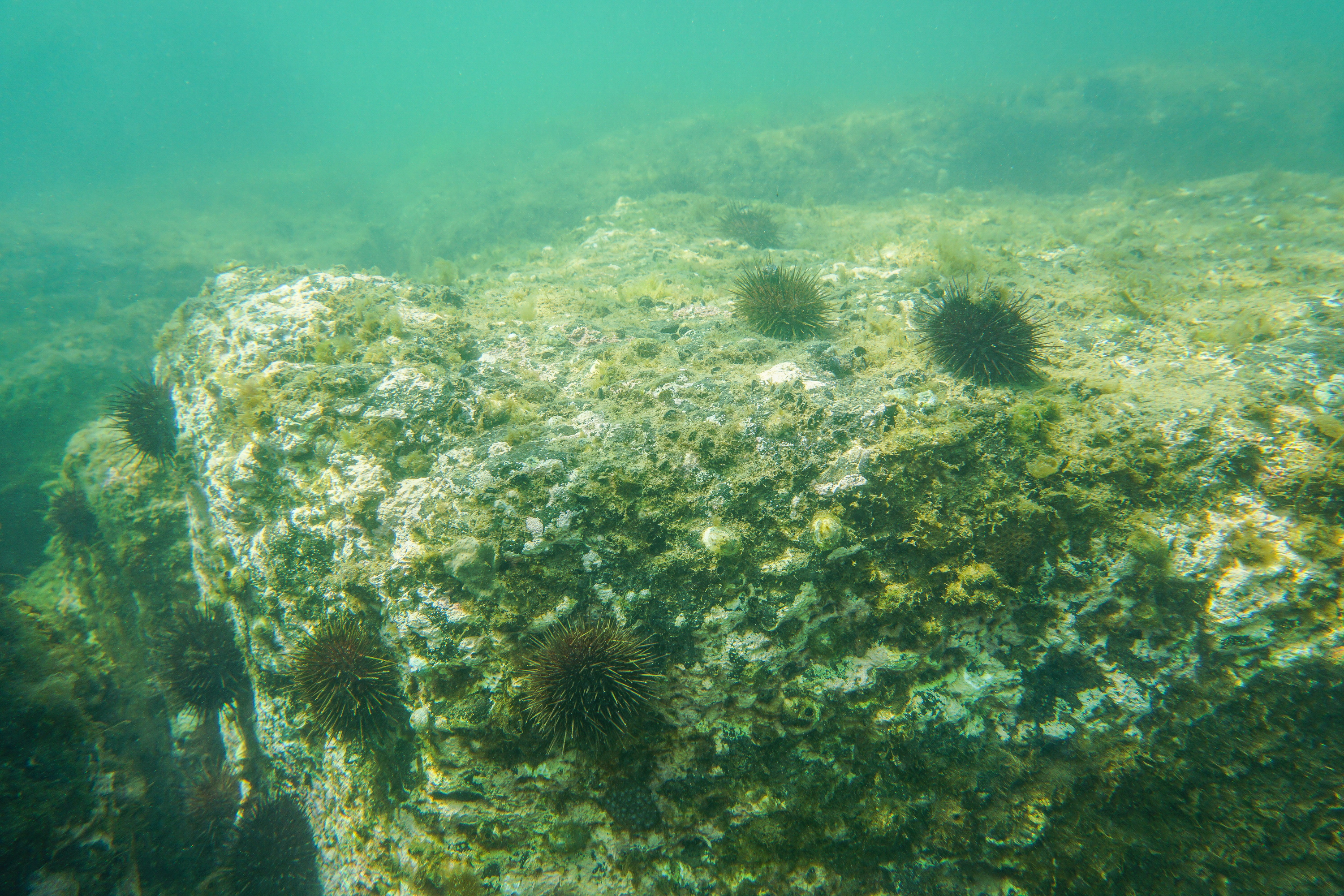 An urchin barren at Jawbone Marine Sanctuary in Port Phillip Bay
A collaborative response
With funding from the Victorian Government's Department of Energy, Environment and Climate Action, the Port Phillip Bay Golden Kelp Restoration Project will pilot innovative techniques to support the recovery of kelp forest habitats in Port Phillip Bay. The project is a partnership between The Nature Conservancy, The University of Melbourne, Deakin University and Parks Victoria and brings together Victoria's leading organisations working with kelp and urchin research, management and restoration.
Over the two-year project, in situ culling of urchins will be conducted across Jawbone Marine Sanctuary in Williamstown and Ricketts Point Marine Sanctuary in Beaumaris to allow the recovery of kelp forest and macroalgae habitats.  
While urchins are an important part of a healthy kelp forest system, without intervention further loss of kelp forest and macroalgae habitat in the bay will continue. 
Once urchin numbers have been reduced, innovative techniques will be used to restore kelp forests. Outplanting juvenile kelps grown on twine and gravel will be trialled, primarily across Jawbone and Ricketts Point marine sanctuaries, where widespread loss of kelp forest and macroalgae habitats have occurred.
Close monitoring will allow us to assess the success of the trials to help inform future restoration and urchin management efforts.
The Project will benefit all Victorians including visitors by enhancing marine biodiversity and contributing to the recovery of one of Victoria's most important marine ecosystems.
MEDIA GALLERY:
You can help us restore oceans across southern Australia
Just $35 per month for a year, can buy enough oysters, mussels and limestone to build 8m² of reef