Recognition for conservation efforts
While most of our efforts go towards projects in the field to conserve nature, it's nice to be recognised occasionally for this hard work. The extra attention this brings helps us to spread our message of nature conservation within the community. And the occasional prize money is always welcome to further our mission. Here are some of the awards we've recently received:
FINALIST
Our project to Restore the Lost Shellfish Reefs of Port Phillip Bay was named as a finalist in the 'Biodiversity Conservation' category of the 2018 Victorian Coastal Awards and in the 2018 Society for Ecological Restoration Australasia (SERA) Award for Restoration Excellence.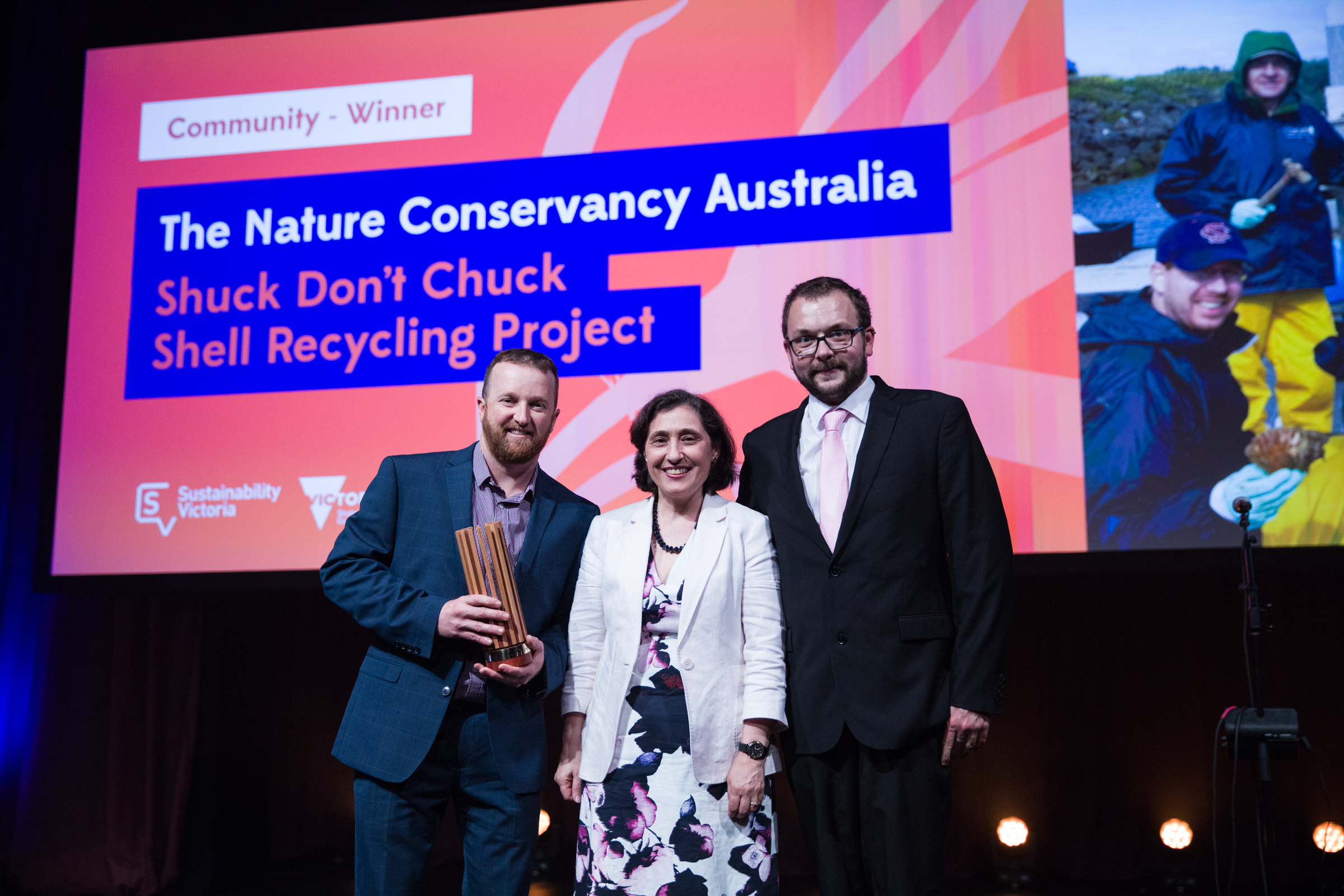 WINNER 2017 Victorian Premier's Sustainability Awards: Community Category – Shuck Don't Chuck
The first of its kind in Australia, Shuck Don't Chuck is a recycling program that helps to regenerate shellfish reefs with leftover oyster shells collected from local seafood restaurants and suppliers.
The program was pioneered in the US and, in Australia, The Nature Conservancy is importing this international know-how and tailoring it to local conditions through work with scientists, aquaculture farmers, seafood outlets and wholesalers.
Shells are quarantined and cured for six months then reused as new oyster and mussel reef habitat, diverting that waste from landfill in the short term and creating a healthier bay with improved water quality and habitat. Learn more.
WINNER 2017 Banksia Sustainability Awards: Natural Capital Category – Murray-Darling Basin Balanced Water Fund
The Murray-Darling Basin Balanced Water Fund provides water security for farmers while protecting culturally significant wetlands that support threatened species and ecosystems. It invests in permanent water rights in the southern Murray-Darling Basin and allocates those rights in a smart way. It's a win-win approach, aligning the interests of people and nature. Learn more.
WINNER 2016 Google Impact Challenge: Australia – FishFace
On 26th October 2016 our FishFace project was announced winner in the popular vote for the 2016 Google Impact Challenge: Australia.
This provided us with $750,000 to develop our game-changing technology that will protect global fish stocks, the livelihoods of coastal communities and provide a sustainable food source for billions of people.
Tens of thousands of people from all over the world voted for FishFace which got us across the line and we thank everyone for their support and interest in creating sustainable fisheries for people and nature.