Noosa has a reputation as one of Australia's most desirable holiday and living destinations. It's known for its expansive beaches and colourful bays, but not for its once abundant oyster reefs.
Over 100 years ago, oyster reefs were common throughout the Noosa estuary. There is still evidence of those reefs today in a local feature the 'Lions of Tewantin', which are aboriginal shell middens, (structures formed from discarded shells from the seafood eaten by the aborigines) several metres high.
Unfortunately, by the early 1900s, Noosa's oyster reefs had become functionally extinct through over-harvesting and dredging. This drastic habitat change contributed to declines in local fish stocks such as snapper, bream and mullet.
The story is no different for the southern coast of Australia and globally, where 85% of oyster reefs have become extinct as a result of overharvesting, disease, and poor water quality.
Oyster reefs once abundant in Queensland
Slide the arrow in the image below to see oyster reefs before and after they were overexploited.
Left photo: taken in 1906, of natural oyster reef at Toorbul Point, Queensland. These reefs were a structurally complex habitat that provide feeding opportunities, shelter and spawning areas for fish in estuaries. Oyster reefs can also slow erosion processes and can improve water quality.
Right photo: Toorbul Point over 100 years later. There is a very high number of dead oysters and a lack of oyster recruitment. Abundant algal growth traps sediment, giving the rocks a dirty appearance.
Returning oyster reefs to the Noosa River
The Nature Conservancy, Noosa Shire Council and the Noosa community together with support from the Thomas Foundation and Australian Marine Conservation Society are working together to rebuild oyster reefs in the Noosa River. The project will improve habitat for fish and marine life, reduce shoreline erosion and help to keep Noosa's much-loved estuary clean and clear for locals and visitors to enjoy. The project will help to improve Noosa's reputation as a destination of choice, enhancing nature-based tourism and outdoor lifestyle living.
An important goal of the project is to enhance Noosa's fishing experiences. Oyster reefs are natural structures that provide food-rich habitat for a diversity of fish species. For estuarine fishes, oyster reefs provide two key functions:
They provide structurally complex habitat that fish use for resting, seeking refuge from predators and spawning; and
They provide a diverse range of food resources, including planktonic prey, smaller fishes and the oysters themselves, which occur in higher concentration in and around the reefs.
Benefits of restoring shellfish reefs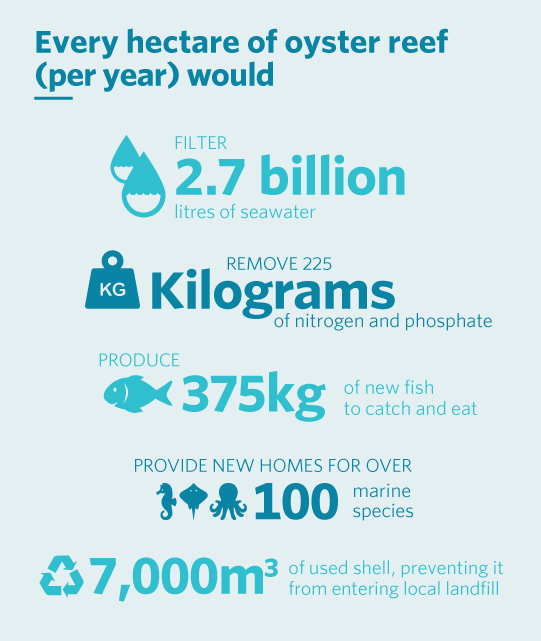 Bringing back Australia's most threatened marine ecosystem, these native shellfish reefs, also bring back a wealth of benefits for people and nature. This includes:
improved local fish populations as reefs act as fish nurseries
better water clarity due to the filtration power of shellfish
increased shoreline protection
extra feeding habitat for threatened migratory shorebirds
an overall increase in biodiversity
increased opportunities for recreational fishing, economic development and tourism
Shellfish reef restoration across Australia
This project is part of our bigger program to rebuild shellfish reefs across southern Australia. See our other shellfish reef restoration projects:
You can help us restore shellfish reefs across southern Australia.
Just $35 per month for a year, can buy enough oysters, mussels and limestone to build 8m² of reef.